For the registration steps of the following products please see below:
DHTML Software: Sothink DHTML Menu, Sothink Tree Menu, etc.
Flash Software: Sothink SWF to Video Converter, Sothink SWF Quicker, Sothink SWF Easy, Sothink SWF Decompiler, Sothink Video Encoder for Adobe Flash,etc.
DVD Video Tool: Sothink iPod Video Converter, Sothink DVD to iPod Converter, Sothink DVD Ripper, Sothink DVD EZWorkshop, etc.
(Please download and install the latest version of the above software so as to be sure the registration code can work for you.)
Important Notice:
When registering your program, please make sure you did not make any mistake when inputting the registration information:
1. Make sure you install the accurate application of the product;
2. Do not insert any space before, after or between your registration information;
3. Your registration name ought to be your registered email address rather than your name.
Step 1: Download the software from our web site and install it.
Step 2: Launch the program and you will see such a dialog. (Take Sothink DHTMLMenu as an example)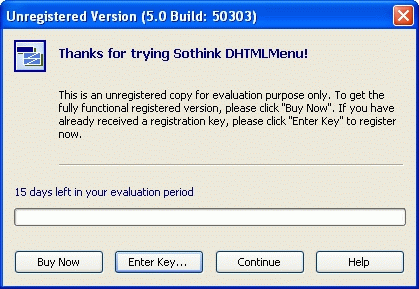 Step 3: Click "Buy Now" to go to our order page and fill in the order form. After your payment has been processed, you will get your "permanent key" instantly.
Step 4: Click "Enter Key", then input the registration name and registration key exactly.